Marion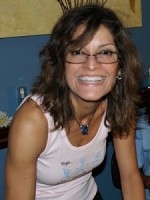 http://southmiamipilates.com/ourinstructors.html
Marion instructs the following:
This 60-minute class focuses on giving you a long, lean, strong body as well as improved posture and spinal alignment! See why people are choosing Pilates to replace their tired out gym routine and why top Olympic Athletes cross train with Pilates to enhance their sport and prevent injury! This class is also perfect for new moms in search of their pre-pregnancy body and for anyone wanting to sculpt their arms, legs, butt, and abs! SHAPE UP NOW AND GET ON BOARD FOR THE BEST STRENGTHENING WORKOUT EVER!




This reformer class is a beginner level. You will practice the basic movements and fundamental positions in Pilates.