Marion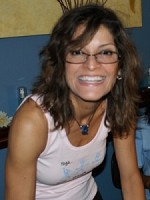 https://studiompilatesandyoga.com/pages/meet-the-team
Marion instructs the following:



This one hour class teaches a sequence with poses modified by Dr. Loren Fishman, MD, whose research suggests that Yoga raises Bone Mineral Density in the spine and in the femur. The classes are taught by Marion Robinson, CIAYT, Certified Yoga for Osteoporosis, Fishman Method.




This class is perfect for beginners as well as for intermediate clients who have a good understanding of the Pilates principles and how to be safe on the Reformer. We use multiple pieces of equipment. Get a full body workout with emphasis on your core muscles and postural alignment.




This is a class for Newbies to Pilates to get oriented to the machine, learn how to find their core, and learn the basic Principles of Pilates. This class is MANDATORY for anyone never doing Pilates before or anyone unfamiliar with the Reformer. Once you take this you can then schedule into a regular class if you feel safe and competent. Otherwise you may benefit from a few Private sessions.

Class 30 minutes.




Yoga for all levels. Classical postures using props such as the chair, block, strap and wall to allow all body's to access each pose. This class is one hour.




Pilates on the Reformer and the Spring Board using resistance and weight to create a strong core, lean muscles and improve your balance. This class is 50 minutes. Come prepared to work hard!




PILATES MIX is a challenging class for clients to work with the Reformer, Spring Board and Mat throughout the class. Small equipment such as the exercise ball, resistance band and resistance circle may also be included. Prepare to work hard and have some fun!